Al Qaeda-linked Al Shabab blamed for Somalia suicide bombing
A suicide bombing in Somalia's capital, Mogadishu, left at least 32 people dead. Six of the victims were members of the embattled Somali parliament, and the government blamed the Al Qaeda-linked insurgent group, Al Shabab.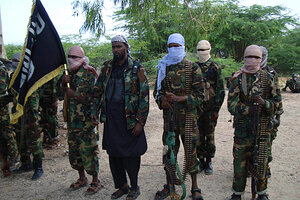 Farah Abdi Warsameh/AP
A suicide strike by two bombers suspected to have belonged to an Al Qaeda-linked group in Somalia killed at least 32 people Tuesday, including six legislators from the country's Western-funded parliament.
Somali Minister of Information Abdirahman Omar Osman immediately blamed Al Shabab, the country's leading Islamist insurgent group, for the attack. Although Somalia now has a parliament and international military assistance, the central government's control over the country is nominal.
Al Shabab, an Islamist insurgent movement on the US government's list of terrorist organizations, has carried out similar attacks in the past. In July, the group carried out its first international attack in neighboring Uganda, murdering over 70 people.
Tuesday's attack came the day after Al Shabab warned of a massive war against "invaders" in Somalia, which appeared to be a reference to the 6,300 African Union (AU) peacekeepers from Uganda and Burundi who are protecting the government from collapse.
---