Somalia's Al Shabab: Does suicide attack mark the launch of a new offensive?
Tuesday's suicide attack by Somalia's Al Shabab militants marks the start of a new 'massive war' against 'invaders,' says a spokesman for the Al Qaeda-linked group. But how much of a threat are they?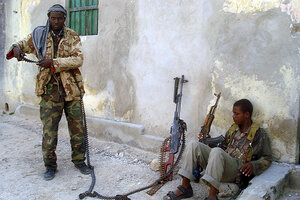 Abdurashid Abdulle/AP
Nairobi, Kenya; and Johannesburg, South Africa
A double suicide bombing against members of Somalia's parliament has raised concern that Somalia's Al Shabab militants - an Al Qaeda-linked Islamist group - are launching a new offensive against the country's weak, Western-funded government.
Al Shabab said it was responsible for Tuesday's attack, which government officials said killed 32 people including six legislators.
"Our Mujahideen forces carried out an operation at Hotel Muna … which accommodates members of parliament and intelligence officers," spokesman Sheikh Ali Mohamud Rage told reporters. "Our martyrs succeeded in killing 60 to 70 government officers, MPs, intelligence officers and civil servants."
FULL COVERAGE: Follow all of our Somalia news and analysis
The raid came the day after Mr. Rage said Shabab was launching a "massive war" against "invaders" who would "face larger attacks from now on."
"Before today's hotel bombing, you could easily say that Al Shabab was just flexing its muscles as a warning to new troop-contributing nations not to get involved," said a European diplomat in Nairobi, Kenya who tracks security developments in Somalia. "But with the suicide bombing – which would have taken time to plan – we're not so sure. It could be that they really are ready to ramp this up."
---
Follow Stories Like This
Get the Monitor stories you care about delivered to your inbox.