How moderate Muslims in Africa view NYC mosque debate
Senegal is a critical junction for US dialogue with the Muslim world. Reaction there to the NYC mosque debate has potentially far-reaching implications for the battle against Al Qaeda.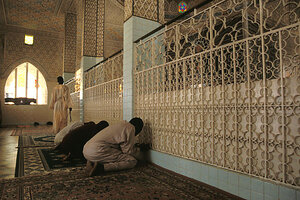 Newscom
Suburban Point E, on whose cobblestone backstreets Senegalese-American R&B roué Akon passed his boyhood years, already has a mosque. Several, actually, each megaphoning prayer songs across balmy Ramadan soirées. So, locals wonder, why shouldn't downtown New York City get another mosque, too?
The question may seem trivial, coming from one of Africa's smaller nations, but America's controversy over the interfaith community center proposed by Imam Feisal Abdul Rauf has implications for the United States' ability to thwart terrorism and defeat Al Qaeda. And Senegal, with a 95 percent Muslim population, represents a pivotal buttress in that campaign, say US military operatives. With Islamic fundamentalism triumphing in neighboring Mauritania and northern Nigeria, strategists see Senegal as a critical junction for US dialogue with the Muslim world.
"Islam in Senegal is tolerant, and we expect that tolerance in return," says Souleye Diallo, director for a study abroad program here.
---
Follow Stories Like This
Get the Monitor stories you care about delivered to your inbox.