In Somalia, foreign intervention won't resolve Al Shabab threat
The best hope for stability in Somalia may lie in African Union troops, but they can't take the offensive against the terrorist group Al Shabab.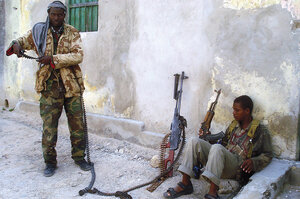 AFP/Getty Images/Newscom
Johannesburg, South Africa
Western governments may consider the rising power of the militant group Al Shabab a major threat to the Horn of Africa. But they have learned enough from the ill-fated US military intervention of 1991-93 – portrayed in "Black Hawk Down" – to know that Western troops are not the solution.
Yet, as the Al Qaeda-backed fighters take control of much of Somalia's rubble-strewn capital, Mogadishu, there is certainly plenty of reason for the West and for democratic African countries in the region to be concerned. On Aug. 24, Al Shabab claimed responsibility for a suicide bombing in a part of Mogadishu thought to be under government control, an event that killed more than 30, including six members of parliament.
Until the tottering three-year-old interim Somali government stands up to the challenge, the best hope for stability lies in the 6,000-strong African Union peacekeeping mission (AMISOM), manned primarily by troops from Uganda and Burundi and funded mostly by nations worried about the threat of a terror haven in East Africa.
"There are not many countries lining up to join this mission," says E.J. Hogen­doorn, head of the Horn of Africa mission for the International Crisis Group in Nairobi, Kenya. "Everyone is concerned, but no one wants to be the one risking their forces' lives.
---