Strikes in South Africa could have long-term economic consequences
In South Africa, 1.3 million striking public service workers refuse government offers, further disrupting schools and hospitals and posing long term economic problems.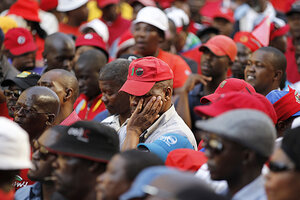 Siphiwe Sibeko/Reuters
Johannesburg, South Africa
South Africa's civil servants continue to flex their muscles, rejecting the latest government offer of wage increases in a nationwide strike that has reached its 16th day.
Because the striking workers are teachers, nurses, and other bureaucrats – and not, say, autoworkers – the economic impact of this strike has been much less than the social impact of students unable to learn, patients unable to receive healthcare, and a government unable to properly function. Still, South Africa's business reputation might suffer down the line.
"Long-term, what this does affect is the perception of foreign investors, particularly after the fantastic experience of the 2010 World Cup," says Andrew Levy, a labor relations specialist at Andrew Levy Employment in Johannesburg. "People who are here can see this for what it is, but for people who were thinking of coming here, or going somewhere else, they might think, 'Maybe we'll do better in Poland or Croatia.' "
---
Follow Stories Like This
Get the Monitor stories you care about delivered to your inbox.