South Africa seeks value-added China investment
South African President Jacob Zuma has asked for more China investment in infrastructure, which would create new jobs amid 25 percent unemployment.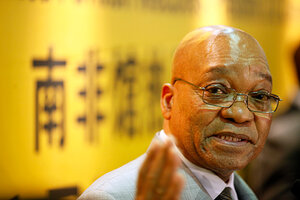 Eugene Hoshiko/AP
Johannesburg, South Africa
South African President Jacob Zuma ended a three-day trip to China last week with a raft of trade deals intended to shore up South Africa's status as a "gateway to China" for the natural resources that fuel the Asian giant's rapid growth.
South Africa is China's No. 1 source of African iron, copper, manganese, chrome, and diamonds. But President Zuma stressed that South Africa wants more out of the relationship, saying that his government would like China to invest more toward infrastructure that would aid his country in the "beneficiation of minerals." And during his trip to Beijing, the mining term – which refers to the refining and processing of raw minerals – emerged as part of a new thrust for Africa's largest economy, one heavily reliant on commodity exports.
Building refineries would not only create new streams of revenue for the South African government and perhaps save China some money in freighting raw materials to Chinese refineries, but it would also create new jobs, something that is desperately needed in South Africa, which has an official jobless rate of 25 percent.
"China is indeed a key strategic partner for South Africa, and South Africa is open for business in a big way," Zuma told reporters on Aug. 24. "We envisage meaningful future cooperation in infrastructure, the beneficiation of minerals, engineering, energy, information and communications technology, and electronics. There are also opportunities to be explored in manufacturing."
---