At South Africa summit, hard-liners pushing to seize white farms
In a Monitor interview, hard-liner Julius Malema outlines a young generation's vision for how South Africa can emulate Zimbabwe's land reform.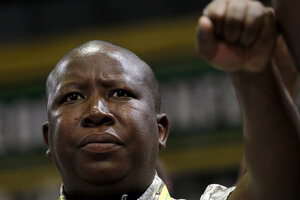 Mike Hutchings/Reuters
A fight for the soul of South Africa's ruling party is under way in Durban at an African National Congress (ANC) policy conference that could decide who rules the party and how it is run for the remaining two years of this presidential term.
At stake at the ANC's National General Council are not just a handful of political careers, but the party's commitment to democracy, property rights, a free market economic system, and transparency.
ANC dissidents aren't likely to remove South African President Jacob Zuma from the top spot. But given that the two ANC allies that worked the hardest to put Mr. Zuma into power in the 2008 election now appear at odds with him, the conference should foreshadow trouble for Zuma down the road.
The ANC won over 65 percent of the vote in the last general election with the help of the Congress of South African Trades Unions and the South African Communist Party, so the ANC's hold on power is not in imminent danger.
But Zuma's leadership over the ANC itself appears increasingly fragile.
On the left, Zuma faces challenges from a massive labor union conglomerate whose strikes last month nearly brought the nation to a halt.
---