Liberia's only woman newspaper editor packs a 'Punch'
Ora Garway runs the tiny newspaper Punch, which despite its modest size has exposed the need for reform in Liberia, a West African country still recovering from a civil war.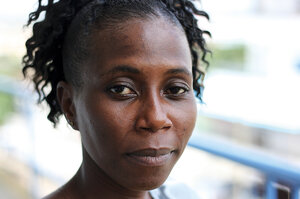 Timothy Spence
Ora Garway quietly takes notes as two male journalists interview teachers – nearly all of them men – about poor classroom resources and irregular salaries at their village school.
Slight and soft-spoken, Ms. Garway finally interjects a few questions: Why do so few girls attend school? Why aren't there more women teachers? What is being done to boost attendance here in Liberia, the nation with Africa's lowest enrollment rate?
Garway is accustomed to a male-dominated world in a news business that, like the country itself, is still struggling to recover from a 14-year civil war that ended in 2003. She is Liberia's only female newspaper editor – and a crusader in reporting on major issues in this fragile nation.
Women rarely cover the important stories, she says. "You will only find them assigned to just rewriting press releases," says Garway, who launched the biweekly Punch in June 2009.
Male editors "can't allow us to do what we are able or capable of doing," she says. "I really don't know why it's like that."
Her struggle may seem ironic in a country headed by Africa's lone female president, Ellen Johnson Sirleaf. Women are still scarce in decisionmaking positions and classrooms here.
According to recent government surveys, 56 percent of Liberian women have not attended school. Only 18 percent of girls graduate from high school, compared with 25 percent of boys.
Garway spent six years as a reporter before starting her own paper, in part to address what she sees as paltry media coverage of Liberia's daunting problems with health, education, and poverty.
Friends had suggested several names for the masthead. She liked "Punch," she says, because "a woman was coming out to do something that [only] men are doing. It would be like a punch,... like a blow."
---