Former Nigerian rebel leader arrested in South Africa
Henry Okah, the former leader of the Nigerian rebel group that claimed responsibility for a car bomb that killed 12 people in Nigeria's capital, Abuja, on Friday, is due in South African court Monday.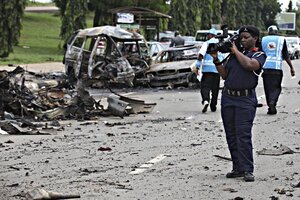 Sunday Alamba/AP
Johannesburg, South Africa
Two days after bomb blasts killed 12 in Nigeria's capital, during celebrations meant to mark Nigeria's 50th year of independence, a former rebel leader arrested in South Africa is due to appear in court.
Henry Okah, former leader of the Movement for the Emancipation of the Niger Delta (MEND), interviewed by the Monitor last January, has denied any involvement with MEND since being released under an amnesty program three years ago by Nigeria and sent to live in exile in South Africa. But the organization he once led, MEND, has accepted responsibility for the car bomb attacks in the Nigerian capital of Abuja on Friday morning.
The bomb blasts come just months before an expected Nigerian presidential election, and just as Nigerian oil production appeared to be increasing under a brief unilateral cease-fire by MEND in the oil-rich Niger Delta region. Nigeria is the third largest crude oil supplier to the United States, and attacks on oil pipelines by rebel groups frequently cause spikes in global oil prices.
MEND's spokesman, calling himself Jomo Gbomo, blamed the Nigerian security apparatus for the death toll in Friday's three separate blasts, saying they had been given five days notice of the pending attack and "were also warned one full hour to the first bomb blast … and told to steer the public from all parked cars which was not done."
Nigeria's 50th anniversary
---