South Africa to join UN Security Council. Will it take lead on Africa conflicts?
South Africa is one of five countries elected by the United Nations on Tuesday to serve on the Security Council for two-year terms, beginning Jan. 1.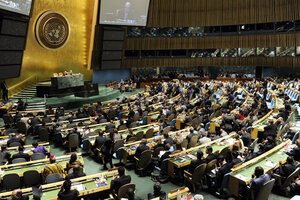 Evan Schneider/UN/AP
Johannesburg, South Africa
For years, South African diplomats have chafed at the overbearing power of the West in African affairs, and said the time had come for African solutions to African problems.
Now, as South Africa has been elected to a two-year seat on the United Nations Security Council, South Africa has a chance to put its words into actions.
During South Africa's two-year term as a nonpermanent Council member, which begins Jan. 1, the Security Council is bound to tackle a series of thorny African conflicts – from Sudan to Zimbabwe and from Nigeria to Somalia – that demand attention.
But how will South Africa approach its leadership role on the troubled continent?
Instead of using its clout to rein in leaders like Zimbabwe's Robert Mugabe and Sudan's Omar al-Bashir – as the West has made clear it would appreciate – observers expect South Africa to act as a pragmatic broker that treads lightly with ruling despots.
---