More white South Africans struggle in post-apartheid economy
White South Africans are increasingly living below the poverty line as the country's job market adjusts to a post-apartheid era, which lacks the government support for whites that it once had.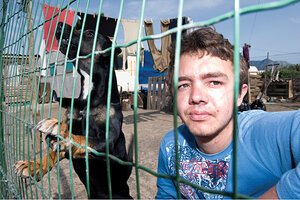 Hannes Thiart
It was an improbable sight even 10 years ago in South Africa: white people in shacks – poor, desperate, and surviving off handouts.
But with the fall of apartheid and the transformation of the job market in favor of the majority black population, increasing numbers of white people are without work and living below the poverty line.
Recent statistics from the Bureau for Market Research show that there are 650,000 whites ages 16 or over without work, with estimates saying that total is growing by 15 percent a year.
In the National Assembly, the leader of the mainly white Freedom Front Plus party, Pieter Mulder, has questioned the government's commitment to confronting white poverty, claiming the startling rise was being ignored.
"There are various reports and statistics on poverty, but very few on white poverty, which is growing at an alarming rate," says Mr. Mulder. "There are more than 70 white informal settlements around Pretoria and Johannesburg, and they're now appearing in Cape Town. It's a problem."
In Parliament, Deputy President Kgalema Motlanthe has said the government does take white poverty seriously but did not want to differentiate. He told MPs: "This government is engaged in a war on poverty in our country regardless of the race or religion of the people affected."
---