Kenya's anticorruption advocates laud suspension of key minister
Kenyan President Mwai Kibaki has suspended higher education minister William Ruto this week, raising hopes here that anticorruption laws in the country's new Constitution will be applied forcefully.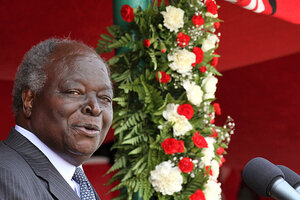 Noor Khamis/Reuters
Kenya's president has suspended a key minister over a nine-year-old corruption case, raising hopes here that anti-graft laws in the country's new Constitution will be applied forcefully.
Under the new system, any minister accused of a criminal charge must stand down while his or her case is brought to court.
William Ruto, the higher education minister and torch-bearer for those opposed to the new Constitution, refused to step down over accusations he scooped $1.2 million in the illegal sale of land in 2001. But Kenya's High Court last week overturned Ruto's bid to have the case thrown out, and ordered him to stand trial.
President Mwai Kibaki – who sees the new Constitution as his lasting legacy after his 10 years in office end in 2012 – then ordered Ruto out of the Cabinet on Tuesday.
"Kibaki is facing a huge amount of pressure to see that the integrity chapters of the Constitution are implemented," says Mwalimu Mati, head of Mars Kenya, an anticorruption watchdog. "He has his eye on his legacy. I think we will see more and more heads rolling in the next two years."

Failure to prosecute
Efforts to prosecute senior politicians accused of corruption in Kenya have so far largely failed, despite Kibaki's 2002 election promise to cut out graft in public service.
Five other ministers have been suspended or have stood down to face charges. None of the cases came to court, and four of the men regained their political positions.
Ruto becomes the first, however, to face action under the provisions of the new Constitution, approved in a national referndum in August.
He was a close ally of Raila Odinga, the Prime Minister, during the 2007 election, but the pair have since fallen out.
---