How a residency dispute in one key town could lead Sudan back to war
Weeks before semiautonomous South Sudan votes on whether to secede from Sudan, people in the flashpoint border town of Abyei are concerned that a residency dispute could reignite a decades-long civil war.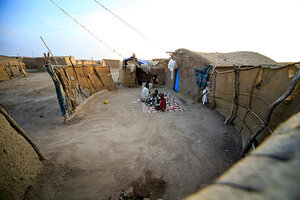 Mohamed Nureldin Abdallah/Reuters
Francis Nyok Koryom stands in front of the ruins of his former home in the flashpoint Sudanese town of Abyei. It was just one of thousands destroyed in 2008 as Sudanese government forces rampaged through the strategically important town that straddles the border between northern Sudan and the semiautonomous south, which votes in January whether to secede.
The forces also razed the local market, and almost all the town's inhabitants fled in what remains the most significant breakdown in the tenuous North-South peace agreed to in 2005. And now the people of Abyei fear more violence – this time potentially leading to a resumption of the decades-long civil war that killed hundreds of thousands.
The ostensible trigger? A political deadlock over the question of who is a resident of Abyei.
Why Abyei is so key
Abyei was one of the frontlines in Sudan's civil war, fought between the government in the mainly Muslim north and rebels in the mainly Christian and animist south.
The 2005 Comprehensive Peace Agreement that ended the war granted residents of Abyei the right to self-determination.
On Jan. 9 2011, when southern Sudanese vote in a referendum on whether to become an independent nation, Abyei residents are supposed to vote in a separate referendum on whether they want to be part of the north or south. But less than three months until the vote there is no agreement on who constitutes a resident of Abyei for voting purposes.
A river runs through the residency issue
Abyei, in the border region between northern and southern Sudan, is inhabited year-round by the Ngok Dinka ethnic group. The land here is extremely fertile.
---