Madagascar coup attempt: rebel leaders appear to lose momentum
Madagascar mutineers announced a coup attempt Wednesday, the same day the unstable country held a constitutional referendum. But there has been no movement from the coup leaders.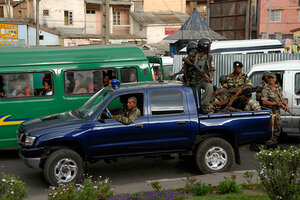 AP
Rebel leaders who announced a coup in Madagascar yesterday are holding talks at their base with the Armed Forces, whom they are asking to help them take over the government.
Coup leaders Gen. Noël Rakotonandrasana and Col. Charles Andrianasoavina, both instrumental in helping Andry Rajoelina seize the presidency in a March 2009 coup, said today that "we need to get rid of him. The country doesn't work anymore."
Some 20 mutineers made a declaration yesterday that a military committee had dissolved the government and seized power, and later called for the military to come to their base to show support.
There has been no movement from the barracks and little dialogue or definitive statements from them since, with Andrianasoavina saying they "won't take power suddenly, but step by step."
Following demonstrations near barracks last night and minor incidents in the center of the capital Antananarivo, it is business as usual on the streets. The prime minister has made several media appearances calling for calm and stating that the government is in charge.
Whether the coup attempt succeeds or not, the announcement put President Rajoelina's interim administration under even more scrutiny yesterday as it faced the polls for the first time in a constitutional referendum.
At a press conference outside his local polling station last night, Rajoelina said that "despite death threats and calls for me to stand down, I will not stand down." He said that the small group of rebels wanted to destabilize elections and a return to constitutional order.
Andrianasoavina said they announced the coup yesterday "not just to upset the elections, but to take power" after Rajoelina failed to fulfill promises of change. He said that now, coup leaders were negotiating only with the military.
---