What Madagascar's failed coup attempt could mean for the fragile country
A coup attempt by rebel officers against a government that itself came to power by military force, leaves Malagasy citizens calling it an example of political theater and all eyes on a constitutional vote.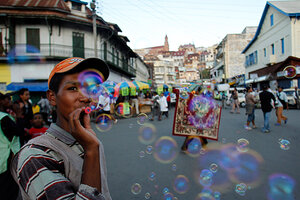 Themba Hadebe/AP
Until some days ago, when a few dozen military officers announced they were dissolving the government and forming a committee to create another one, Madagascar was just another African country well outside of the media's glare.
Now that the coup attempt has been halted and the coup leaders have been arrested without casualties, observers are asking whether any of this belated attention will help lift the country out from almost two years of political and economic crisis.
The attempted coup was launched on the day a referendum was held in Madagascar to approve or reject a newly written constitution, proposed by the country's self-declared President Andry Rajoelina – who took power himself through a coup d'etat just 18 months ago. Lawyers and opposition party activists worry that Mr. Rajoelina, who initially promised not to run again for president, would use a positive result on the constitutional referendum to legitimize his interim administration and finally garner the international recognition he needs to unfreeze trade and aid benefits on which the country is reliant.
Now regardless of the expected 70 percent win at home, Rajoelina may have lost abroad.
Mediation to Madagascar
Tomaz Salomao, executive secretary of the Southern African Development Community that mediated talks between Rajoelina and the three main
opposition parties in Addis Ababa and Maputo in 2009, said that a delegation would arrive in Madagascar Tuesday.
---