Tense Ivory Coast vote reveals a nation divided
Voters in the conflict-torn West African nation of Ivory Coast are choosing a new president today amid concerns of violence after political clashes caused at least six deaths in recent days.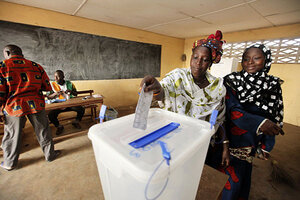 Luc Gnago/Reuters
Yamoussoukro and Abidjan, Ivory Coast
People across the Ivory Coast headed to the polls Sunday for the first time in more than a decade, hoping to put a definitive end to a civil war and political crisis that has stoked ethnic tensions and left the world's top cocoa producing nation divided in two.
While the first round of voting on Oct. 31 was certified as free and fair by international observers, the campaigns have turned nasty in recent days, with clashes between partisans causing at least six deaths so far. The United Nations has dispatched an extra 500 troops to the country to reinforce the almost 10,000 already there, and local security forces have stepped up their presence as well.
Sunday's run-off vote pits sitting president Laurent Gbagbo against his long-standing rival Alassane Ouattara in a contest that is in many ways a democratic proxy for the all-but-resolved civil war.
Two rivals face off
Mr. Gbagbo paints himself as a patriotic president who defended his country from attack by rebels from the mainly Muslim north of the country, held it together during a drawn-out political stalemate and was forced to cling to power for five years after his mandate expired in order to pull the country back from the brink of collapse.
Facing him is a man whose personal fortunes reflect the discrimination that pushed northerners to pick up weapons and demand equal rights. While Mr. Ouattara denies any relationship with the rebellion, he is widely considered the candidate of the north and received almost 90 percent in some districts there in the first round of voting.
---