Why one young Kenyan decided to kill for an ethnic militia
One young Kenyan, an ethnic Kalenjin, tells why he helped recruit others for ethnic killings after the disputed December 2007 election. Now, he and many like him feel betrayed by politicians they say organized the violence.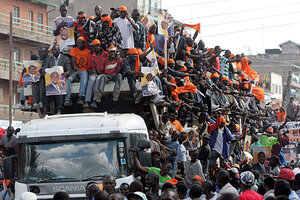 Antony Njuguna/Reuters
Elijah doesn't look like a killer. He has the small wiry frame of a marathon runner, which he is, and the intense stare of a man on the run, which he also is.
Elijah was once a fierce supporter of Kenya's main opposition party, the Orange Democratic Movement (ODM), which in the 2007 election campaign promised to give ethnic Kalenjins a greater role in the political power structure in Nairobi, and more control of their ancestral lands. Some firebrand leaders of the Kalenjin community – who are the majority in the agriculturally rich Rift Valley – promised voters free land, land that would be made available because Kalenjins would push out the current ethnic Kikuyu owners who many Kalenjins view as foreign "invaders."
For Elijah, these campaign promises were not horrifying; they were music to his ears. Soon after arriving back in Eldoret after living a few years abroad, he began organizing youths to attend rallies for ODM's main candidate in Eldoret, William Ruto – and when the election results denied them the outright victory they expected, he helped organized youths for war.
These were heady times. ODM campaigners openly talked of pushing Kikuyus and other "foreigners" out of the Rift Valley, and Kalenjin-language radio stations whipped up anti-Kikuyu sentiment. Communities began to slaughter their animals, a common practice for Kalenjins who are preparing for war. Party agents gave Elijah a truck, and the money to buy weapons – mainly machetes, hatchets, and spears – to deliver those weapons to the same youths that he had recruited to the party cause.
---