Threat to Kenya's ICC witnesses: Traitors will be dealt with 'ruthlessly'
Top International Criminal Court (ICC) prosecutor, Luis Moreno Ocampo, has named six Kenyan leaders for crimes against humanity this week, but witnesses have been threatened or bribed not to cooperate.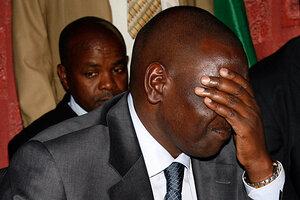 Reuters
For the supporters of Kenya's former Agriculture Minister William Ruto, there are two kinds of enemies.
There are enemies who are born that way, as ethnic Kikuyus or Luos who simply must be expelled from the Rift Valley as "foreigners." And there are the enemies from within, ethnic Kalenjins who are traitors to their own people.
It is the internal traitors – whom a group calling itself the "Friends of Hon. William Ruto" chillingly call "moderate Tutsis [victims of the Rwandan genocide]" – whom they see as the greater enemy, to be dealt with "ruthlessly."
"These witnesses should be presented with limited options of being offered handsome cash incentives to drop their cases or more punitive measures, including assassination, should be taken against those who do not cooperate," read the minutes from a meeting of the Friends of Ruto, held on Nov. 10, 2009. "The Prime Minister [Raila Odinga] and other enemies should not be given the opportunity to hurt our leaders through the predetermined investigations and eventual trials by the [International Criminal Court]."
One of these supposed "traitors" is an elder of the community who prefers to go unnamed for this story due to the grave risks of speaking out. During the 2007 election campaign, this community elder was targeted by Ruto's supporters for failing to give support to Ruto. He now says Ruto's supporters have singled him out as an enemy.
---