Nigeria's Jos remains tense after Christmas terror attacks
The Christmas church attacks and reprisal attacks on Muslim homes have residents of Jos, Nigeria, worrying about a spread of voilence.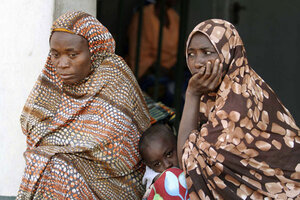 Afolabi Sotunde/Reuters
Johannesburg, South Africa; and Jos, Nigeria
Before the blasts came, the Nigerian city of Jos was busy preparing for Christmas. Worshippers showing up for Christmas eve mass at Sacred Heart Catholic Church were dressed in their Sunday best, men and boys in their suits, women in brightly flowered prints, and little girls in frilly dresses.
But the scene at Sacred Heart turned quickly turned from one of celebration to horror. The Church was one of four targetted by almost simultaneous explosions.
Husbands could not help their wives and children went astray from their mothers in confusion. Market women left their items in their opened shops and disappeared down narrow alleys. Buildings collapsed over one another at the vibration from the blasts. Vehicles collided headlong as each tried to escape.
The blasts claimed some 38 lives and injured another 70 or so. Nigerian police are rushing units to Jos and neighboring Maiduguri – where a militant Islamist sect called Boko Haram also carried out attacks – in order to prevent reprisal attacks. On Christmas day, small groups of youths went from house to house in Muslim neighborhoods and burnt them down, although many of the occupants had already fled in fear of reprisals.
The return of violence to Jos, a capital city of a transitional state between the mainly Muslim north and the predominantly Christian south, is a troubling sign for Nigeria, a country that has struggled with ethnic and religious violence from its independence in 1960. In this year alone, nearly 1,500 lives have been lost because of religious violence in Nigeria, and as the country prepares for presidential elections in May 2011, the potential for more religious tension is high.
---