Nigeria seeks to contain violence after Christmas attacks
The Christmas bomb attacks on Christian churches has Nigeria seeking to contain a possible outbreak of religious and sectarian violence.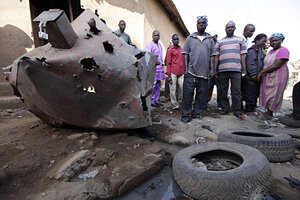 Afolabi Sotunde/Reuters
Nigerian state police are rushing once more into the central Nigerian state of Jos, after a series of bomb blasts in Christian churches – presumably set off by Islamist militants – killed 38 over the Christmas holidays.
United Nations Secretary-General Ban Ki-moon condemned the attacks and supported the government's pledge to arrest the perpetrators. The local police commissioner, Abdulrahman Akano, swears that the situation is under control. But local residents have been vocal, condemning the police for failing to protect them.
"The secretary-general is appalled by the violence that caused the loss of so many innocent lives," the UN said in a statement yesterday, adding that Mr. Ban backs "efforts by the Nigerian authorities to bring those responsible to justice."
The attacks in Jos and in the nearby town of Maiduguri are just the latest of an estimated 1,500 killings this year. They are a sign that long-brewing tensions between the ethnic Berom community, which tends to be Christian, and the ethnic Fulani community, which tends to be Muslim, continue to simmer.
Analysts fret that a return of ethnic or religious violence here, on the cultural border between the northern Muslim community and the southern Christian and animist community, could easily spread into a much broader conflict throughout the country. A spread of violence could also have a profound effect on upcoming presidential elections scheduled for May 2011.
---