With independence vote, South Sudan finally sees end to decades of struggle
A vote for secession is all but certain in the independence referendum that begins Sunday. South Sudan is anticipating independence and a chance to build its own country.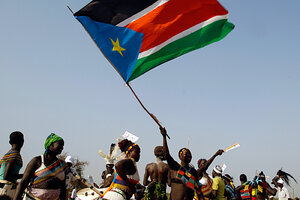 Goran Tomasevic/Reuters
Two days remain until South Sudanese vote in an unprecedented referendum to decide whether or not to split Sudan, Africa's largest country, into two independent states.
Sudan's wars have been almost constant since independence from Britain 55 years ago, culminating in a brutal two-decade civil war between the Arab and Muslim north and non-Arab, Christian, and animist south.
The majority of southerners are convinced that life in their new state – a vote for secession is the more likely outcome – will be far better than it is under Sudan's current construction, if only because they will be free from the oppressive yoke of unity by force, imposed by successive governments in Khartoum.
In 2005, Sudan's warring parties in the north and south signed a peace deal that gave the south substantial autonomy, but required the two sides to commit to attempting to "make unity attractive" over the six years before southerners would have the chance to vote in an independence referendum.
In recent months, southern officials have repeated the refrain that "unity has not been made attractive," and it is clear that the issues that divided the north and south for decades – religion, race, and resources, among others – have not been resolved since the peace was signed.
---