Obama congratulates South Sudan on independence vote, but what about Abyei?
Clashes over who controls the disputed border region of Abyei – and its oil – could greatly complicate South Sudan's move toward independence.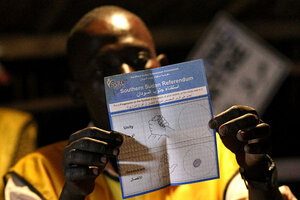 Jerome Delay/AP
South Sudan is rejoicing over the peaceful conduct of its long-awaited vote for independence and the international community is lauding the process. President Obama called the referendum on whether the semiautonomous region will secede from Sudan "an inspiration to the world."
But a hotly contested zone in the heart of Sudan is once again threatening to explode – an event that could derail all efforts toward a peaceful divorce in Africa's largest country.
The tug of war between the north and south over the future of the oil-rich border town of Abyei has heated up in the past week. A series of clashes between the two tribes who stake claim to the territory illustrate how the future of this region – and of Sudan – remain up for grabs.
Here on the north-south faultline, northern Arab herdsmen – whose large herds need Abyei's fertile pasturelands and the river that cuts through the territory – have long been at odds with the Ngok Dinka people, mostly non-Arab farmers who claim that international court rulings and peace deals meant to protect their ancestral rights to this land have been repeatedly dishonored.
While southerners have turned out en masse since Sunday to decide the future of their oil-rich but underdeveloped, Texas-sized territory, the residents of Abyei have been denied that right, partly because the ruling parties in the north and south could not agree on the definition of an Abyei resident, and therefore who should be eligible to vote in the Abyei referendum.
---