Use of extrajudicial rendition in Uganda terror case sparks controversy
The ongoing detention of nine Kenyans in Uganda in connection with a July 11 suicide bombing is raising concerns about the use of extrajudicial rendition in Africa as a tool to fight Islamic terrorism.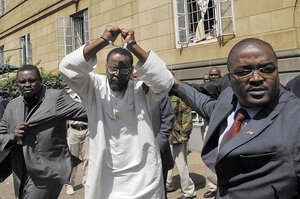 Simon Maina/AFP/Newscom
They came for Ismail Abubakar at nightfall on Aug. 9, 2010, plucking him from an outdoor market near the mosque where he had just finished teaching young Kenyans how to read the Quran.
The plainclothes Kenyan police shoved him into a car, took away his cellphone, hooded him, and drove him to a nearby police camp. Within hours, Mr. Abubakar – nicknamed "Mzungu" because of his pink albino skin – would be transported to Uganda to face charges for the July 11 suicide bombings that killed 76 people in Kampala, Uganda's capital.
Three months later, Abubakar and two dozen other bombing suspects were released for lack of evidence. But the story of his rendition, and the ongoing detention of nine other Kenyans for the bombing, highlights a troubling pattern of extra-judicial abduction and human rights abuses as Africa increases efforts, often at the request of US counterterrorism officials, to combat rising Islamic terrorism.
Abubakar says he was "shocked" when investigators told him that he was about to be charged in the Kampala blasts. "I had never been to the west side of Nairobi, let alone go to Uganda," he said.
---