The war over Ivory Coast's cocoa heats up
Ivory Coast is the world's largest cocoa supplier, and Alassane Ouattara, the internationally-recognized leader, is asking cocoa companies to boycott Ivory Coast cocoa in hopes of cutting off the funds keeping rival Gbagbo afloat.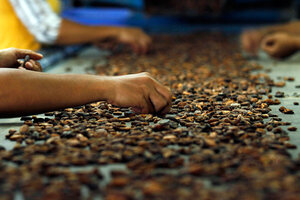 Yusuf Ahmad/Reuters
Some day or another, the tug-of-war for control of Ivory Coast had to come down to chocolate, or more specifically, cocoa: the cash crop that bankrolled forty years of economic boom, mass immigration, and eventually war across this tropical garden, West Africa's lushest agricultural zone.
The former French colony is the world's top contributor to the global chocolate supply, and the vagaries of its climate – especially its political climate – sway the going rate for Mr. Goodbars and Butterfingers more than any single other variable.
Now, eight weeks after the country's incumbent President Laurent Gbagbo barricaded his opponent in an Abidjan hotel – and two weeks before Valentine's Day – the treats Americans savor, crave, and wrap in ribbons are primed to become bargaining chips in a power struggle that has already cost at least 260 lives by United Nations figures.
On Monday, Alassane Ouattara, recognized by the UN and Ivory Coast's electoral commission as the winner of the nation's Nov. 28 presidential election, asked the world's cocoa movers to stop buying his country's cash crop for the month to come.
The Gbagbo administration's proceeds from the cocoa trade, Mr. Ouattara says – from taxes stamped at the Abidjan port to bribes extorted by gun-brandishing roadside soldiers – are being used to pay the motley of uniformed troops and unruly pro-Gbagbo militias that Human Rights Watch has accused of organized "rape, torture, extra-judicial killings, and forced disappearances."
---