Murder of gay activist David Kato sends chill in Uganda
An unknown assailant killed outspoken gay activist David Kato Thursday. Last month, he successfully sued the Uganda tabloid Rolling Stone for revealing identities of alleged homosexuals.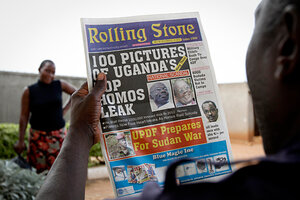 AP
John Malumba Wasswa says it suddenly feels very lonely without his twin brother around.
Yesterday just after lunchtime, an unknown assailant arrived at the house of his brother, David Kato (in Uganda people are often given their own local name). Not long afterward, a visiting neighbor found Kato lying on his floor, with a severe wound to his head. He died on the way to the hospital.
Kato's murder is more than just a family tragedy, Mr. Wasswa concedes. One of only a handful of campaigners, Kato was a prominent gay rights activist in Uganda – a tough job in a country where homosexuality is illegal and gay men and women regularly face harassment.
"When my brother wanted to do something then no one could stop him," Wasswa says. "He was very brave."
And in recent months, Kato had needed all of his courage and determination.
Late last year, the Rolling Stone, a local tabloid, splashed Kato's picture across its front page, along with photographs, names and addresses of a handful of other men it called Uganda's "top homos." The accompanying editorial ran under the headline "Hang them."
Earlier this month, Kato and two fellow activists successfully sued the Rolling Stone and got a judge to impose an injunction barring all media in Uganda from revealing the identities of alleged homosexuals. It was a rare victory in a country where gay rights activists said the atmosphere was becoming increasingly poisonous.
"Kato was much more conscious of his security these days," says Kato's lawyer, John Francis Onyango. "He was conscious that something could happen."
Onyango said that it was too soon however to know if Kato's murder was down to a homophobic attack, but said that Kato had been subjected to verbal and physical threats recently.
---