South Sudan's next task: build a nation from scratch
South Sudanese voted overwhelming in January for independence. Now, they face the reality of building the world's newest nation – from printing new currency to collecting taxes.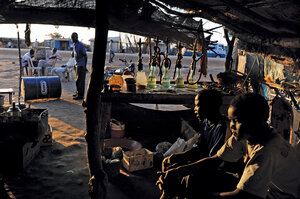 Jahi Chikwendiu/The Washington Post/Getty Images
Johannesburg, South Africa; and Juba, South Sudan
South Sudanese have waited a long time for their freedom.
After 22 years of civil war – Africa's longest conflict – in which 2 million people were killed and 4 million displaced, semiautonomous South Sudan is now on the brink of full independence from the Arab-dominated north.
But as the euphoria from January's historic vote, for which 99 percent of voters in the south turned out to vote virtually unanimously for separation, to secede begins to fade, the reality of building the world's newest nation from scratch will come into focus.
When South Sudan officially becomes independent in July, the to-do list will be daunting. While creating a government administration; printing new currency; building roads, schools, and hospitals; and collecting taxes in one of the world's least developed areas; the country must also prepare to demarcate a disputed, oil-rich border region with its historic enemies to the north and guarantee its security.
Building the capacity of government workers to handle these challenges will be a top priority, and one helped by the return of refugees who've gained skills during exile in developed countries. Thankfully for the fledgling country, it will have at least a few skilled administrators like Malul Ayom Dor on hand.
"We don't dream of fighting in the bush anymore. We have had enough," says Brig. Gen. Dor, one of the most highly educated men in the Sudanese People's Liberation Army, the military wing of the South's ruling party.
---