Rising world food prices may soon hit Africa hard, but could be a future boon
The World Bank warned Tuesday that global food prices are reaching 'dangerous' levels. Africa is bracing for short-term trouble, but sustained high prices could spark agribusiness investment across the continent.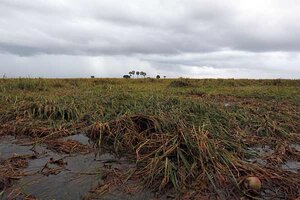 Andrew Caballero-Reynolds/Reuters
Johannesburg, South Africa
Global food prices reached a historic high last month, a fact that may cause even the most comfortable of Americans to cinch in their belts and cut back on spending.
But what about the world's poor?
"Global food prices are rising to dangerous levels and threaten tens of millions of poor people around the world," World Bank Group President Robert Zoellick said Tuesday as he announced the bank's findings that about 44 million people in developing countries have been pushed into poverty since last June because of rising food prices.
Think you know Africa? Take our geography quiz.
Here in Africa, where many people spend as much as 60 to 80 percent of their income on food, higher food prices don't mean cutting costs. They mean spending the same amount for less food. In a word: hunger. But that's the short term.
In the longer term, a sustained global trend of rising food prices – caused in part by growing demand from China and in part by crop failures in Russia, Pakistan, Australia, and Sri Lanka – may have generated more investment in the poor but agriculturally rich nations of Africa, spurring on better food production and better food security for both Africa and the West.
---