Why Uganda's 25-year ruler is unlikely to face Egypt-style protests
Ugandans are expected to extend President Yoweri Museveni's 25-year rule in Friday's election. More voters seem to want change, but apathy and fear of brutal crackdowns prevent unrest.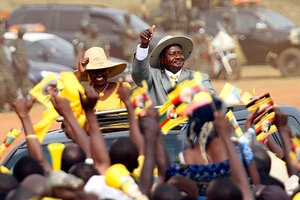 James Akena/Reuters
Johannesburg, South Africa; and Ibanda, uganda
After abolishing term limits and reaching 25 years in power, Uganda's President Yoweri Museveni is up for re-election on Feb. 18. He's expected to win and remain one of Africa's longest-serving rulers.
This is due to the stability and relative prosperity he's brought, supporters say.
A growing number of Ugandans, though, are fed up with the rampant poverty, high unemployment, and widespread corruption. They want change. But like many other African countries with aging strongmen who alter the rules of the game to extend their power, Uganda is unlikely to see the type of revolt recently witnessed in Tunisia or Egypt. Apathy and fear of brutal crackdowns stand in the way.
Think you know Africa? Take our geography quiz.
"We want change in our country, but I don't think it can happen at elections the way they have been rigging the votes," says primary schoolteacher Paxtone Agatasha, who plans to vote for opposition leader, Kizza Besigye. "In Africa, these Arab countries like Egypt and Tunisia are the only ones where people can riot and change things, but not here in Uganda."
Why Ugandans won't rise up
---