Why the African Union may struggle to mediate in Ivory Coast
Four representatives of the African Union arrived in Ivory Coast today for yet another attempt at mediating the country's presidential election crisis.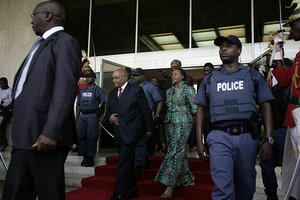 Emanuel Ekra/AP
Hundreds of Young Patriots in multicolored soccer uniforms jogged and did jumping jacks in front of the Abidjan airport in Ivory Coast on Sunday. They worked out in a show of military discipline and strength that had one goal: to prevent the African Union (AU) mediators from doing their jobs.
"Under no circumstances will [Burkina Faso President] Blaise Compaore set foot on Ivorian soil," one protest leader screamed. "We won't let him," he said to roars of approval.
This is the kind of welcome an AU panel of African presidents was facing ahead of its arrival in Ivory Coast today, supposedly with a resolution to the country's political standoff in hand.
The panel, named at an AU summit in January, is charged with arbitrating between incumbent President Laurent Gbagbo, who refuses to cede power, and his challenger Alassane Ouattara, recognized by the international community and the country's electoral commission as the winner of the November presidential election.
But faith in the panel's ability to succeed is weak. Their arrival – at least the sixth attempt to mediate a peaceful way out of the nearly three-month-old presidential power struggle – comes after another outbreak of violence over the weekend. Pro-Gbagbo forces reportedly opened fire on a group of Ouattara supporters, killing at least four, according to state television.
Aggressive 'Young Patriots'
---