Why did Somali pirates kill four American yachters?
As US forces negotiated the release of four Americans captured while yachting in the Arabian Sea, Somali pirates shot and killed them today. The incident raises questions about the new military approach to piracy.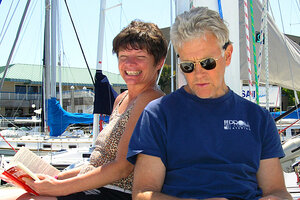 Joe Grande/AP/File
Johannesburg, South Africa
Somali pirates have killed the four Americans they captured last week in the Arabian Sea, according to US Central Command.
The killings are unusual for Somali pirates, since captives are often valuable for ransom. Pirates reportedly received about $1 million for the November release of a pair of British yachters Paul and Rachel Chandler, who were detained for more than a year.
But at a time of increased militarization in the Indian Ocean – with European, Russian, Chinese, Indian, and American navies patrolling sea lanes and carrying out attacks on suspected pirate ships – the Somali gangs have struck back, threatening to kill and mutilate captives in revenge for the killing of Somali pirates by foreign navies.
Top 5 high-profile captures by Somali pirates
Scott and Jean Adam, a husband and wife from California, were taking a seven-year, around-the-world trip on their personal yacht when it was captured Feb. 18 south of Oman's coast. Also aboard the Quest at the time of capture were two Americans from Seattle, Phyllis Macay and Bob Riggle.
---