Interview: Kofi Annan says Ivory Coast mediators could draw on Kenya's example
Former UN Secretary General Kofi Annan, who led Kenya's post-election mediation, says lessons learned in 2008 could help resolve the current Ivory Coast standoff.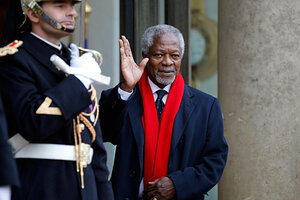 Benoit Tessier/Reuters
Johannesburg, South Africa
When Kofi Annan came to Kenya in January 2008 to help mediate a political crisis that had already killed hundreds of people and displaced tens of thousands from their homes, there was very little outward sign of hope.
Two men had claimed victory in the presidential elections. Their supporters on the streets had taken up weapons, butchered their neighbors, made the country ungovernable, and brought the economy to a standstill. Numerous heads of state flew into Nairobi to mediate talks, only to fly out frustrated.
It was a situation, in short, bearing strong resemblance to the current stalemate in Ivory Coast, where a delegation of African Union presidents led by South African President Jacob Zuma is now attempting to bring two self-proclaimed presidents to the bargaining table.
In an interview, the former secretary general of the United Nations says mediators in Ivory Coast might look to Kenya for lessons in quelling post-election violence, such as sticking to a single mediation process, bringing opponents together in public, and pressing forward despite outbreaks of violence.
At the same time, however, Mr. Annan says he likely had an easier task negotiating an end to the crisis that struck Kenya after the December 2007 elections. For one thing, Kenya had been a stable democracy leading up to the crisis, with functioning institutions; for another, the election results were so deeply riddled with irregularities – from stuffed ballot boxes to deliberately spoiled ballots – that nobody, not even the electoral commission itself, knew who had really won. Kenya's politicians (unlike those in Ivory Coast) seemed desperate to have an outsider mediate a way out of the stalemate.
---