African Union backs Ouattara as president in Ivory Coast
After months of indecision, the African Union has formally backed opposition candidate Ouattara as Ivory Coast president. Ouattara now has to figure out how to take over a government that the former president refuses to give up.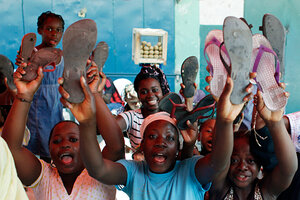 Rebecca Blackwell/AP
Johannesburg, South Africa
Three months after Ivory Coast's political crisis began, the African Union has called on incumbent President Laurent Gbagbo to step down, paving the way for opposition leader Alassane Ouattara to finally take on the powers of president.
The AU's decision followed a fact-finding mission by five African heads of state, including South Africa's President Jacob Zuma, and months of violence that killed at least 365 people and displaced tens of thousands of others in the capital Abidjan and elsewhere. Mr. Ouattara, who attended the AU meeting in Addis Ababa, Ethiopia, this week, is expected to return to Abidjan soon.
Now, all eyes turn to Mr. Gbagbo, who chose not to attend the AU meeting and rejects the AU's compromise solution, which envisages Mr. Ouattara as president of a power-sharing government that includes members of Gbagbo's party but not Gbagbo himself. Gbagbo has threatened not to let Ouattara back into the country and has issued an order to prevent continued air supply flights for the United Nations peacekeeping mission in Abidjan.
---