Ivory Coast's 'Invisible Commandos' attack renegade president's strongholds
In the latest sign of impending civil war in Ivory Coast, fighters loyal to President-elect Alassane Ouattara are moving out of their strongholds to attack those of renegade President Laurent Gbagbo.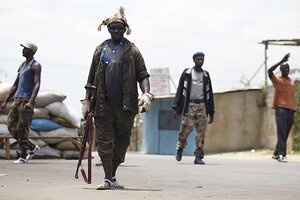 Rebecca Blackwell/AP
Fighters loyal to Ivory Coast's internationally recognized President-elect Alassane Ouattara advanced out of their strongholds in the West African nation's main city Monday.
The self-described "Invisible Commandos" are now pressing the escalating battle for the presidency into new neighborhoods and closing in on the presidential palace, which renegade Laurent Gbagbo has refused to vacate since losing the Nov. 28 election.
Automatic weapon fire interspersed with the booms of mortar explosions echoed through the abandoned high rises in the central business district of Abidjan, emptied of its businessmen and street hawkers who fled in fear of the encroaching civil war.
Think you know Africa? Take our geography quiz.
Irregular fighters, wearing traditional woolen shirts and amulets they claim protect them from harm, had been fighting Mr. Gbagbo's police and military in Abobo and PK-18, two northern districts of Abidjan where Mr. Ouattara is popular. As of last week, they had solidified their control of these neighborhoods, effectively carving out a piece of Ivory Coast's biggest city.
Now they're moving forward.
In the early hours of Monday, the fighters slipped into the Banco forest, a wild green expanse in the center of the city, emerging on the other side and laying siege to the house of the head of Gbagbo's army. The house is located at the edge of Yopougon, a notoriously pro-Gbagbo neighborhood where Ouattara supporters were lynched, and in some cases burned alive, in the past couple of weeks.
---