Ivory Coast's besieged city of Abidjan braces for impending attack
A brief lull in fighting on Sunday allowed UN peacekeepers and French forces in Ivory Coast to evacuate UN personnel and French citizens, as forces loyal to President-elect Alassane Ouattara prepared for assault on Abidjan.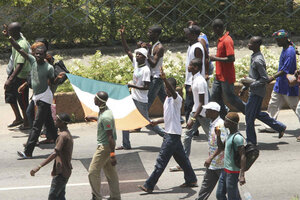 Luc Gnago/Reuters
Four days into the siege of Ivory Coast's largest city, Abidjan, it's almost as if the internationally recognized President Alassane Ouattara and Laurent Gbagbo, the man who stubbornly refuses to cede power, have decided to leave this half-done battle for another day.

A lightning quick advance by forces loyal to Mr. Ouattara swept across the country last week, only to stall on the doorstep of Abidjan. On Monday, there was barely a shot fired in the downtown core. Sporadic gunfire could be heard across the palm tree-lined lagoon of downtown Abidjan, echoing between the now-empty office buildings and deserted streets.
One pro-Ouattara fighter contacted Sunday claimed that there had been dissension in the ranks, forcing Ouattara to call a tactical retreat. Now, the fighter said, thousands of soldiers were gathered on the northern fringe of the city, ready to advance as soon as the order was given.
"We're going to take the situation into hand," said the fighter, who only identified himself as Commander Ouattara.
This possibility of military action, of course, is exactly what worries human rights activists the most. Already, hundreds of people have died in the past four months of Ivory Coast's post-election stalemate, with an estimated 800 killed in a single day in the western town of Duekoue, according to the UN. Now, diplomats are ramping up even more pressure on the two side, and promising UN protection of civilians until a political solution can be found.
Meanwhile, most of the movement on the ground was carried out by foreigners. French military forces seized the city's international airport early Sunday and immediately landed military cargo planes carrying 300 reinforcements. While commercial flights didn't resume, 167 foreigners – mostly French and Lebanese – were flown to Lomé, in nearby Togo, in what military spokesman Frederic Daguillon said was not an evacuation, just an attempt to fill empty seats on their transport plane.
---