'Road map' to Libya peace comes as both sides show signs of fatigue
The African Union's road map lays out a cease-fire to allow humanitarian relief and dialogue toward a settlement. Qaddafi has accepted it, while rebels are studying it.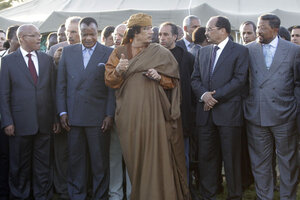 Pier Paolo Cito/AP
Johannesburg, South Africa
Libyan rebels are studying a truce proposal from the African Union, a day after Libya's embattled President Muammar Qaddafi signaled that he would be willing to explore a cease-fire to allow humanitarian organizations access to civilians caught in the crossfire.
The AU's proposed "road map" to peace comes at a time when both Mr. Qaddafi's forces and the rebels have shown signs of fatigue, with battlefield gains by one quickly erased by the other. A long-term settlement is still far off, as rebels say the only way they'll agree to open discussions with the regime is if Qaddafi's forces retreat and if Qaddafi himself steps down. Yet even if the cease-fire proves to be temporary, the AU's efforts may help to quiet criticism of the AU as ineffective in times of conflict.
"This has significance beyond Libya," says Steven Friedman, a senior political observer and head of the Center for the Study of Democracy at the University of Johannesburg. "Five years ago, some of the responses we are seeing today would not have been possible. We are now at the stage where the AU is willing to step in and intervene in a conflict."
Presidential panel
A panel of five African presidents, including South African President Jacob Zuma, flew to Tripoli on Sunday to propose the cease-fire on humanitarian grounds, urging both sides to explore dialogue that would lead to a peaceful settlement.
The AU presidents also urged NATO to stop its air campaign against Qaddafi's forces, a campaign that was itself backed by the United Nations Security Council in the interests of protecting civilians against Qaddafi's use of heavy weapons in urban areas.
---