Africa's 'Iron Lady' revitalizes Liberia
UPDATE: On Oct. 7, the Nobel Prize committee announced that Liberian President Ellen Johnson-Sirleaf was one of three women to win the 2011 Nobel Peace Prize for advancing the role of women in society. In April, the Monitor profiled President Johnson-Sirleaf – who faces voters in Oct. 11 national elections – and her record of erasing her Liberia's crushing debt after years of civil war.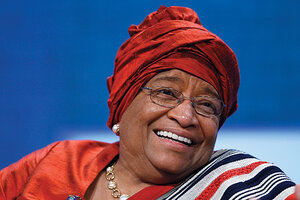 Lucas Jackson/Reuters/File
Late last summer, the war-ravaged West African country of Liberia quietly achieved something the United States and many other Western countries have never managed to do: It got rid of its external debt. All of it.
That battle was won after an intense three-year campaign by Africa's first woman head of state, Liberian President Ellen Johnson-Sirleaf.
A veteran of the international financial scene, Africa's "Iron Lady" made it her mission to gain international forgiveness of the debt, which by 2007 had ballooned to $4.9 billion, eight times the country's gross domestic product. And Liberia's newly sound financial footing makes the impoverished country much more attractive to foreign investors, who are pumping life into its economy.
"In three years, we met all of the conditionalities, which meant strong fiscal discipline," Ms. Sirleaf told the Monitor in a recent interview in her Monrovia office. "We were able to get that debt off our backs."
Sirleaf counts getting rid of that burden as her greatest achievement as president. And it was no easy task.
The monstrous external bill was a result of more than a quarter century of shoddy governance. Two warlords – first Samuel Doe and later Charles Taylor – controlled the country for much of the 1980s and 90s, when Liberia endured a brutal 14-year civil war. Both Mr. Doe and Mr. Taylor soaked up heavy streams of international aid, but neither ever bothered to make any interest payments.
"The debt just began to explode," says Ben Leo, a fellow at the Cen­ter for Global Development, a Wash­ing­ton think tank. "By the time [Sirleaf] came into office, the situation was be­yond dire. It was just a complete mess."
---