Nigeria election riots: How leaders stoke Muslim-Christian violence
Scores have been killed in Muslim-Christian violence after this weekend's relatively clean presidential election, highlighting that the age of 'do-or-die' politics and 'thugs-for-hire' networks is not dead in Nigeria.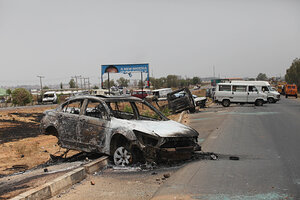 Sunday Alamba/AP
In anticipation of the results of Nigeria's remarkably smooth presidential vote over the weekend, angry young men took to the streets across the country's mainly Muslim north on Monday with knives and clubs.
Despite the fact that international and domestic observers said this was the first relatively free and fair election since the tumultuous country moved beyond military rule 12 years ago, someone had convinced the mobs that the election had been rigged in favor of incumbent president Goodluck Jonathan, a southern Christian.
Protests soon turned deadly, with churches, mosques, homes, and businesses set ablaze in the northern cities of Kaduna and Kano. In Kaduna on Tuesday, Christian neighborhoods were targeted, and known supporters of Mr. Jonathan's ruling People's Democratic Party were burned alive and hacked with machetes. Reprisal attacks by Christians quickly followed. More than 200 have been killed, according to one local rights group.
The Muslim-Christian violence underscores a bitter reality: The age of "do-or-die" politics and "thugs-for-hire" patronage networks is not dead in Nigeria. And although Nigerian politicians do have the power to tamp down local rivalries that quickly morph into brutal religious violence, more often than not, these leaders do the opposite.
On Tuesday after his official defeat in the presidential race, after dozens of people had been killed and more than 10,000 displaced, popular opposition leader Muhammadu Buhari characterized the violence as "sad, unfortunate, and totally unwarranted," but issued no direct appeal for calm. "We have commenced consultations at the highest levels to recover your stolen mandate," Mr. Buhari said Wednesday.
---