Deadly day of Ugandan rioting follows opposition leader's arrest
The arrest of Ugandan opposition leader Kizza Besigye set off riots across Kampala Friday in which at least two dozen people were killed.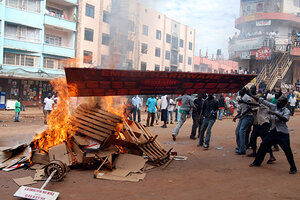 Stephen Wandera/AP
Sitting outside his laundry shop in a usually tranquil suburb of Uganda's capital, Kampala, David Ssentongo points at the smoldering ash of tires that locals set ablaze in protest and rage.
"The people are angry," Mr. Ssentongo says. "They are angry because of the way the presidential candidate Dr. Kizza Besigye was arrested yesterday. But they are also angry because prices are rising, because they can't afford to catch the bus to work, because they can't buy milk for their children."
On Friday, Kampala woke up to a day of rioting. From downtown markets to the suburbs, protesters set up roadblocks made out of rubble and burning tires and the police and military fired live rounds at demonstrators.
By the early evening, at least two people had been shot dead and 143 were hospitalized, including a 2-year-old child with gunshot wounds, the Ugandan Red Cross said. The internal affairs minister put the number of arrested at 360.
The main spark for the riots was the brutal arrest of Dr. Besigye, Uganda's main opposition leader. For the past three weeks, Besigye, and other opposition leaders have been attempting to walk to work in protest of the soaring cost of living. In March, inflation on food rose to almost 30 percent and on fuel to more than 10 percent.
Police, who have banned all protests, arrested Besigye three times, jailed him for six days, and allegedly shot him in the finger with a rubber bullet.
On Thursday, the government's heavy-handed reaction became even more brutal. After police stopped him from walking, Besigye got in his car and drove into Kampala. At first police showed restraint, stopping Besigye's car at a roundabout and refraining from firing tear gas at growing crowds.
---