Opposition leader's return to Uganda met with renewed violence
Kizza Besigye's arrival in Kampala Thursday, the same day President Museveni was sworn in for a fourth term, was met with fresh violence as his supporters clashed with police.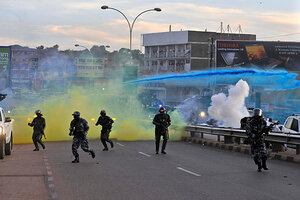 James Akena/Reuters
Ronald Ssenkumbi was among the crowd who thronged Uganda's airport to greet Kizza Besigye, the opposition leader who many Ugandans consider the country's true president after February's contested polls.
"The people along this road here represent the real Uganda. We have come here spontaneously to greet Besigye and to show we want change," says Mr. Ssenkumbi.
Mr. Besigye flew in from Nairobi on Thursday after spending almost two weeks there receiving medical treatment. He was injured when Ugandan security services arrested him as he led opposition protests against spiraling living costs.
On the road to the airport, where Besigye supporters gathered in jubilant celebration, Ugandan police and military fired on the crowd with tear gas, live ammunition, and struck many with batons. At lease one person was reportedly killed in the violence.
Coming after weeks of unrest and a wave of opposition protests over rising prices, analysts say the unrest could be a sign of things to come as divisions between the opposition and government appear to be deepening.
Besigye's arrival came the same day that Uganda's veteran president, Yoweri Museveni, was sworn in for a fourth term in office that could extending his rule in Uganda to more than 30 years.
---