South Africa election: Why some poor black voters may ditch the ANC this time
Failure to deliver basic services has debased the once-vaunted party of anti-apartheid icon Nelson Mandela and the African National Congress (ANC) may lose some municipalities in Wednesday's local elections.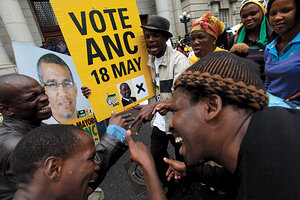 Mike Hutchings/Reuters
Johannesburg, South Africa
Since South Africa's black majority finally won their freedom from the white apartheid regime 17 years ago, most blacks have voted reliably for the African National Congress (ANC). But ahead of Wednesday's municipal elections, voters in a number of poor black townships say they may ditch the once-vaunted party of anti-apartheid icon Nelson Mandela – even if that means voting for the white-run Democratic Alliance (DA).
"I would have wanted to vote for the black-administered government, but I don't eat patriotism," says Miyetani Kuzumuka, a voter in the Alexandra township in northern Johannesburg. "The ruling party has taken us for granted too long, yet no service delivery is worthy of talking about in our poverty-stricken townships."
This year, Mr. Kuzumuka says his entire family will try a new political party.
"I do think there is growing disenchantment, directed at the national leadership and the political class of the ANC in general," says Steven Friedman, director of the Centre for the Study of Democracy at the University of Johannesburg. "But the thing is not about whether the garbage crisis or the billing crisis is resolved. It's about 'These [ANC leaders] don't care about us.' "
ANC spokesman Jackson Mthembu says voters should keep things in perspective.
---