South Africans vent frustration, this time in municipal elections
In the fourth municipal elections since the end of apartheid in 1994, South Africans voters say they are disappointed with politics in general.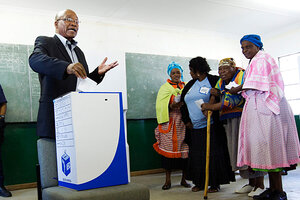 Rogan Ward/Reuters
Johannesburg, South Africa
When South African President Jacob Zuma cast his municipal vote in his home village of Nkandla, he told reporters that "casting the vote is one of the most important things that any citizen must feel proud of."
Johannesburg resident and political analyst Mabine Seabe was much less enthusiastic, however, when he fired off this post-vote tweet: "It's not the best feeling when you vote based on principle rather than for a party you believe in."
Long lines of voters across the country – in urban centers, sprawling squatter camps, and rural districts – should be an indication that South Africa's hard-fought democracy is alive and well. But anger over the government's failed promises to provide basic services like water and electricity, and the main opposition parties' difficulty in connecting with the needs of ordinary South African voters send an opposite signal, of a country ill at ease with its political class and its present system of choosing leaders.
Today's municipal elections – the fourth since the end of the apartheid government in 1994 – should be a way to measure public moods, since municipal governments are the ones that have the most direct effect on ordinary South Africans' lives. But past elections have shown that even a disappointed electorate tends to vote for a certain party for racial or ethnic reasons rather than because that party performed well or not – and that voters who are disappointed enough simply stay home.
---