South Sudan threatens to retaliate against North in border dispute
South Sudan says the North is at risk of breaking a fragile 2005 peace deal that ended two decades of civil war.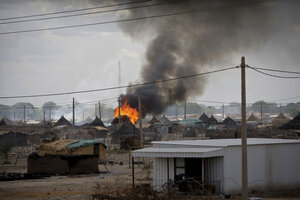 Stuart Price/ Reuters
The growing possibility of civil war over Sudan's most disputed border zone was confirmed Monday when the South Sudanese army said it would retaliate if the North's army continued to move south.
"Our mission is to protect the borders … any step south of this [North-South] border will not be tolerated," says South Sudan's military spokesman Philip Aguer.
On Saturday, northern forces seized the strategic, contested border town of Abyei and Mr. Aguer is warning the North that it is at risk of shattering the fragile 2005 peace deal that ended two decades of war.
RELATED South Sudan set to become one of the world's 5 newest countries
Now, in a bid to deescalate tensions, US envoy Princeton Lyman is warning that the North has risked debt relief worth billions of dollars by seizing Abyei.
Mr. Lyman told the Monitor in a Sunday phone interview that it was crucial for the North's President Omar al-Bashir and South Sudan President Salva Kiir to meet to discuss the crisis.
---