Why sustained protests in Burkina Faso haven't brought Egypt-style revolution
Fierce demonstrations have been raging for months throughout the landlocked West African nation, but civil society lacks the strength to bring about revolutionary change.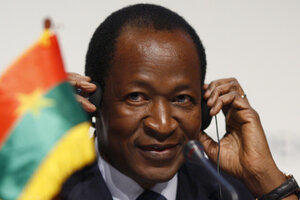 Christian Charisius/Reuters/File
Ouagadougou, Burkina Faso
The Ministry of Education in Burkina Faso agreed to meet some demands of striking teachers this week after thousands of public high school students across the capital demonstrated, some violently, in support of their teachers. The student demonstrations are the latest in a series of disparate protests that have been wracking the country in a manner suggesting a sub-Saharan extension of the Arab Spring.
After meetings with student activists Tuesday, the ministry agreed to a salary increase for teachers if the students dispersed protests. The teachers had gone on strike last week, demanding higher salaries and smaller class sizes.
Even with the apparent resolution of the teachers' demands, other fierce demonstrations have been raging for months throughout the nation. Protesters are attempting to call attention to issues ranging from the salaries and benefits of soldiers, the living and working conditions of university students, and democracy in the small West African country that has been ruled by President Blaise Compaoré for the past 24 years. Some scholars say this is a signal that the revolutionary sentiments of the Arab Spring in the Middle East are spreading south.
Not a sub-Saharan Spring
But Saidou Karim of the Center for Democratic Governance in Ouagadougou says that while there are similarities with the Arab Spring, revolution is unlikely.
---