Battle for Abyei could ignite civil war in Sudan
As many as 80,000 people have reportedly fled Abyei since northern Sudanese troops seized the symbolic border town last month.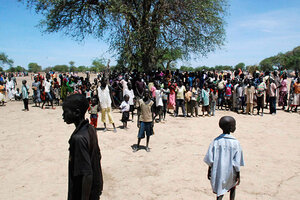 Jeremy Clarke/Reuters
Johannesburg, South Africa; and Mayen Abun, South Sudan
When northern Sudanese troops seized the disputed border town of Abyei last month, it was a sign that the fragile six-year-old peace between North and South Sudan was teetering on the brink. Some called it the first shots of Sudan's next civil war, following the two-decade-long war that killed an estimated 2 million people.
Like the more well-known conflict in Sudan's western Darfur region, the North-South civil war began as a result of local disputes, a feeling by many southerners that the Islamist-dominated northern government was neglecting its duties to the South. And between the two sides, Abyei rose as a symbolic prize – a Kashmir or a Jerusalem – that must be fought for and defended at all costs.
Now, Abyei could pull the divided nation back into war just weeks before South Sudan officially secedes on July 9.
"It's probably the worst-case scenario," said a United Nations humanitarian worker not authorized to speak on the record.
The UN estimates at least 30,000 have fled Abyei and surrounding villages as a result of recent fighting. According to some local officials, that number is closer to 80,000.
---