African free trade zone planning is under way
African trade officials convened in South Africa this week to announce the start of negotiations on a continental free trade zone that would incorporate 26 countries and cost almost a trillion dollars.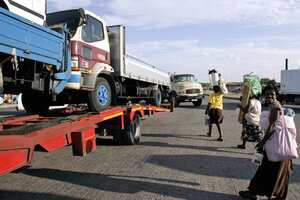 Themba Hadebe/AP/File
Trade officials from across Africa met in Johannesburg this week to announce the formal start of negotiations toward a free trade zone that would stretch the length of the continent, incorporating more than 500 million people, 26 countries, and nearly a trillion dollars of economic output.
The proposed deal, which would eliminate many trade barriers between participating countries, would merge three existing trade blocs in eastern, central, and southern Africa. It would include Africa's two biggest economies (South Africa and Egypt) and its fastest growing (the Democratic Republic of Congo, Zimbabwe, and Botswana).
The project, which has been dubbed the "African Grand Free Trade Area," is a bold idea, but not a new one. African leaders first made their plans for a 26-country trading bloc public at a summit in Uganda in October 2008. Since then, they have made little progress toward that goal.
---