On World Refugee Day, UN warns that poor countries bear greater refugee burdens
The UN's World Refugee Day report shows that 80 percent of refugees are hosted by developing countries, not the richer nations that have the economic capacity to absorb and host refugees.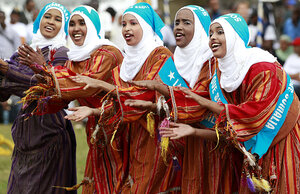 Thomas Mukoya
Johannesburg, South Africa
According to a report by the UN's refugee agency, released today to coincide with World Refugee Day, more than 80 percent of the world's 10.5 million refugees are taken in by developing countries, which already have their own challenges to deal with: hunger, poverty, underemployment, and illiteracy.
All told, 43.7 million people have been displaced from their homes because of conflict or political oppression. More than half of them, 27.5 million, never even leave their own countries, remaining internally displaced instead.
"In today's world there are worrying misperceptions about refugee movements and the international protection paradigm," said António Guterres, head of the UN High Commissioner for Refugees (UNHCR), in a statement. "Fears about supposed floods of refugees in industrialized countries are being vastly overblown or mistakenly conflated with issues of migration. Meanwhile it's poorer countries that are left having to pick up the burden."
Richer Western nations do take in a fair number of refugees, as their daily newspapers are quick to point out with front-page photos of boatloads of Africans crossing the Mediterranean. But the economic burden these richer nations bear is far lower per capita than is the burden that developing nations that host refugees.
In Germany, the industrial nation with the largest refugee population (594,000 people), there are 17 refugees for every $1 of gross domestic product. In Pakistan, the nation with the largest number of refugees overall (1.9 million), there are 710 refugees per $1 of GDP. Countries with larger and stronger economies, measured in GDP, are better able to absorb refugees than those with smaller GDPs.
---