In South Africa, Michelle Obama helps rebuild trust and wows the young women
Many South Africans dislike what they see as US unilateralism. Mrs. Obama's visit is an attempt to remind South Africans of shared history and common goals.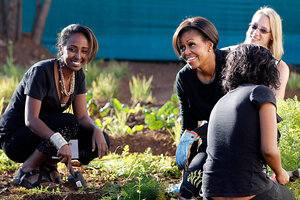 Charles Dharapak/Reuters
Michelle Obama kneels in the red, iron-rich soil of a community garden and starts pulling carrots. Beside her are young women from around Africa, all participants in an African Young Women's Forum here in Johannesburg. The first lady chats with them about the importance of volunteer work, nutrition, and community health projects like this one, Nanga Vhuthilo Community Center.
This is good old American retail politics, of course, complete with visuals and worthy causes and value statements. To all appearances, Mrs. Obama seems to genuinely love it. She could, of course, pick one carrot, smile for the camera, and be in the hotel before sundown. But by the time she's done, there's a pile of carrots behind her, and her black slacks will never look the same again.
"This is good for the biceps," she jokes, tossing another carrot into the pile.
Officially, this trip – Obama's first solo travel to Africa – is a chance to show her country's support for the kinds of development projects done here at Nanga Vhuthilo – a community health, nutrition, and education center for the children of AIDS patients – and to promote the development of Africa's women and youths. But coming at a difficult time for US and South African relations, the first lady's trip to South Africa is a chance for the Obama White House to use a bit of what Washington analysts call "soft power," or the power to persuade by focusing on shared positive aspirations and goals.
Rebuilding a relationship
---