World's newest country: Can South Sudan limit internal strife?
As the Republic of South Sudan prepares to declare independence Saturday, internal ethnic and political divisions threaten the nation's long-term viability.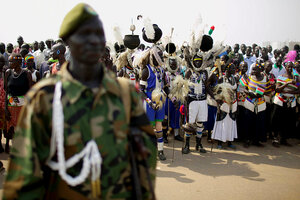 Pete Muller/AP
• World's newest country is a three-part series examining the challenges facing South Sudan.
Part 1: Can South Sudan limit internal strife?
Part 2: South Sudan's oil remains a sticking point
Part 3: Future of South Sudan tied to efficacy of foreign aid
When South Sudan becomes the world's newest country Saturday, its upcoming challenges will take a back seat to the euphoria surrounding the historic moment.
Still, internal conflicts loom large.
Before the young government can truly focus on the monumental task building a nation from scratch, it must first figure out a way to manage a range of pressing security issues.
Not only must the nascent, oil-rich country overcome the threat posed by its longtime enemy to the north – the Islamist-dominated government of Sudan's President Omar al-Bashir, who is wanted for war crimes by the International Criminal Court – it must also deal with militias, ethnic divides, and vocal critics within its own borders.
Analysts warn that if South Sudan's government does not seize the "independence moment" to begin a new chapter in the region's history, then it risks fulfilling the doomsday prophecies fueled by the northern government and other actors opposed to southern secession.
---