World's newest country: South Sudan's oil remains a sticking point
As its independence draws near, South Sudan has yet to agree how to divide oil revenues with its northern neighbor, which has the infrastructure to export the oil the south needs to sell to survive.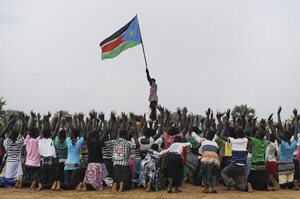 Paul Banks/UNMIS/Reuters
• World's newest country is a three-part series on the challenges facing South Sudan.
Part 1: Can South Sudan limit internal strife?
Part 2: South Sudan's oil remains a sticking point
Part 3: Future of South Sudan tied to efficacy of foreign aid
When Africa's largest country splits in two on Saturday, the two new states would prefer to go their separate ways – if it wasn't for their pesky oil problem.
As much as the governments of Sudan and the Republic of South Sudan would like to bid adieu for good on July 9, in the immediate future their oil industries will remain inextricably linked, and the hope of security and working relations between the two states will rest largely on how the two governments manage their interactions over the resource that is currently the lifeblood of both of their economies.
The basic calculus is simple. For the solely oil-driven southern economy to survive, the region's significant oil largesse must continue to find a way out of its soil. For the moment, the only option is through pipelines controlled by the northern government that lead to refineries in the northern city of Port Sudan, on the Red Sea.
---