'A dream come true' as South Sudan launches new nation
Joy and reverence rippled through the crowds during South Sudan's independence ceremony on Saturday.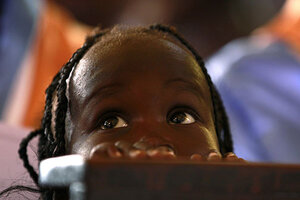 Thomas Mukoya/Reuters
The Republic of South Sudan rang in its status as the world's newest country this weekend with a series of spontaneous and orchestrated celebrations of what President Salva Kiir called "a dream come true."
On Saturday, tens of thousands of southerners flocked -- some even ran in their high heels and dress clothes -- to a fitting site for the main independence ceremony: the burial grounds of their fallen hero and former leader, Dr. John Garang.
"We were bombed, maimed, enslaved, treated worse than a refugee in our own country, but we have to forgive, although we will not forget," Mr. Kiir said in his speech to the masses, a couple hours after he took the oath of office as the first elected president of the South Sudan.
At moments during the day-long ceremony, it was clear that some citizens of the fledgling country could hardly contain their joy.
Cries of "Hallelujah!" and "Freedom!" rang out and rippled through the crowd. Some jumped into the air and roared with delight as the southern flag reached the top of a towering flag pole, symbolic of the accession of the new state to the international community.
World leaders offer praise
The United States and Britain were among the first nations to recognize Africa's 54th country.
---